www.fountaingallery.co.uk The Group summer show will open on 23rd June. The Gallery is open!




Exhibitions in 2019
I am thrilled that one of my paintings, "Keyhaven Boats" was chosen to be 'Painting of the Day'.
Contemporary British Painting

ING Discerning Eye One of my paintings was selected by Louis Wise, art critic, to be in the 2019 Discerning Eye exhibition at the Mall Galleries in London.


New Ashgate
'A Different Space', Solo Showcase at New Ashgate,
Farnham, Surrey, 3 August-14 September


'
Out of the Blue 2019', Fountain Gallery, East Molesey, Surrey, 25 June-7July
This show was on until 7 July at the Fountain Gallery nr Hampton Court, East Molesey, Surrey.
Once again I was joined by Nigel Moores and Simon Taylor for a terrific show.




Upfront Gallery I am pleased that two of my paintings were selected to be part of the 2019 UpFront Open.
The exhibition was 28 January-24 March. The gallery is near Penrith in Cumbria.


'Four of a Kind', Hunter House, East Kilbride, Scotland, 3 May-15 June
'Variations', Lightbox, 4-30 June





'Out of the Blue 2018' opens Tuesday 18 September at the Fountain Gallery nr Hampton Court, East Molesey, Surrey. Once again I am joined by Nigel Moores and Simon Taylor for a terrific show.


Please come to see our show!


'Edge of the Ocean' at the New Ashgate Gallery in Farnham, Surrey was finished on 8 SeptemberOpening . I was very pleased to be part of the show.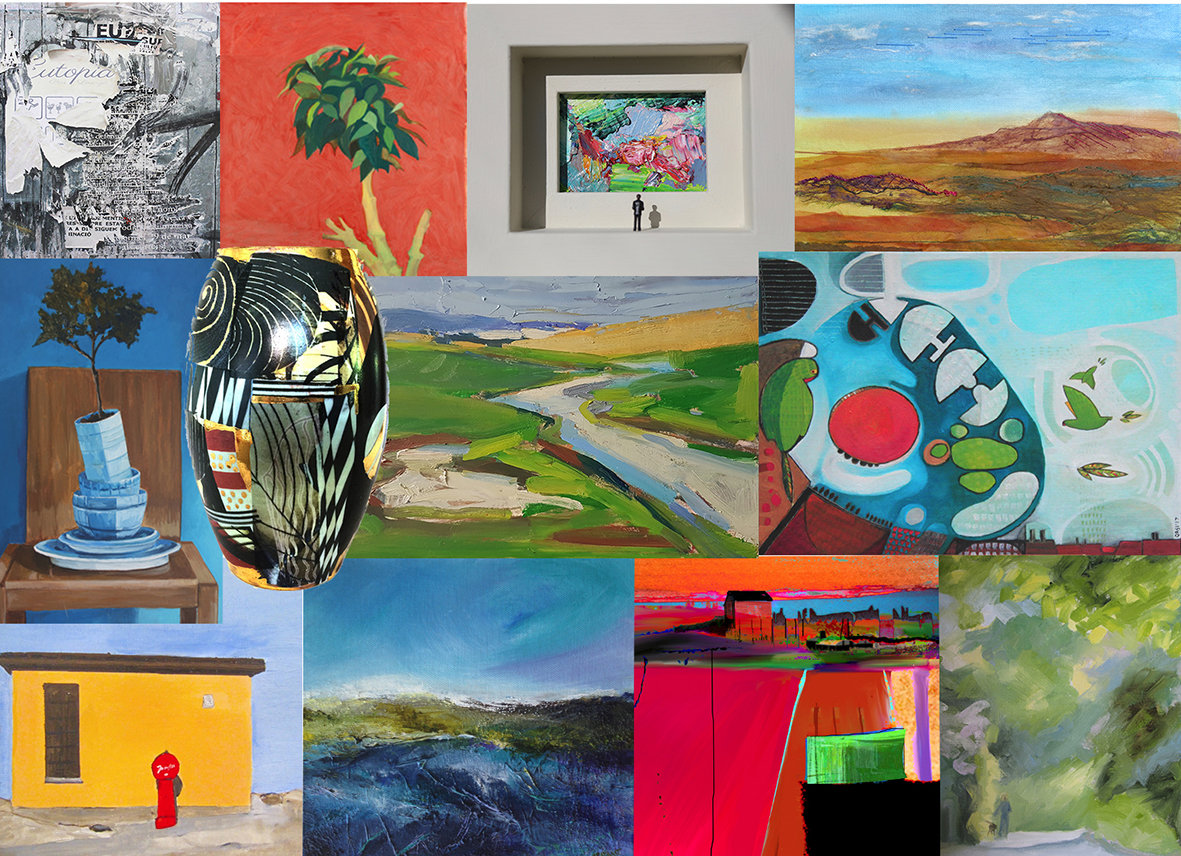 Bank Gallery Artists and The Fountain Gallery joined forces to present an exhibition of paintings, prints and ceramics at the Lightbox in Woking.



5 June - 1 July 2018

Elaine Coles
Orsi Cowell-Lehorczky
Simon Dray
Hildegunn Gradval
Carol Grant
Mary Hayward-Smith
Nigel Moores
Eva Swiderska
Linda Walsh
Ann Marie Whaley
Audrey Woods




Two of my paintings have been selected for the UpFront Open at the Upfront Gallery in Penrith in Cumbria. It will be open January 29th see the invitation here.


Getting ready for the

Water, Water Everywhere 26 Jan - Sun 8 April

at the Stables Gallery in Twickenham.

The Stables Gallery, Orleans Gallery, Riverside, Twickenham TW1 3DJ
Water Water Everywhere
25 January – 8 April 2019

demonstrations will be held on Sunday afternoons. I will be demonstrating on 4 February, 2-4 pm.

I had a great weekend taking part in the Surrey Contemporary Art Fair in February 23-25 at Sandown Park with the Fountain Gallery.




I am pleased that this painting is now on show at the Civic Centre in Esher as part of the
ELMBRIDGE: MOVING ART. This exhibition will be up until the end of September.

July19-August 13 - This painting, entitled 'Transition' was selected to be in 'Moving Art' - an exhibition at the Riverhouse Barn. In connection with Elmbridge council and RC Sherriff Trust.



June 13-25 - Fountain Gallery had its Summer Show. I was pleased to exhibit several paintings there. We had beautiful weather and many visitors, regulars and new!

June 10 and 11, from 12-6pm - I took part in Open Studios at 62 Hetley Road- part of the Hammersmith&Fulham Artsfest. We had a very pleasant weekend, with food and refreshments served in the garden.


March 7-19. 'Coast to Coast' -at the Fountain Gallery with painter Forbes Moores and ceramicist Simon Taylor :


All three appreciate the hand-made, the slow evolution of images and objects, the rich language of colour, texture, shape and line. But the artists, showing their work together for the first time at the gallery, use their own unique techniques and materials to communicate these feelings and ideas.
This is an exhibition inspired by their surroundings and by the voyage of
all our lives, both real and imagined.





I am thrilled that this painting has been selected for the UPFront Open at the UpFront Gallery in Cumbria. The exhibition opens on 24 January and runs until 19 March. It is in the gloriously named Unthank Farm....a lovely venue for walkers. There is a great cafe and puppet theatre there as well as paintings!



t
Some of my work will be on show at the Fountain Gallery for our Christmas show-13-30 December.
http://www.fountaingallery.co.uk/page158.html

I enjoyed taking part in the 2017 ING Discerning Eye exhibition. Two of my paintings were selected by collector Ian Mayes, QC and artist Dan Coombs. The show was at the Mall Galleries in London, 17-27 November 2016.
in



We celebrated 40 years of Hetley Road Studios (http://acava.org/) and had Open Studios; a great weekend 30 Sept-2 October.


In June/July www.openartspaces.com - 2 weekends of exhibiting work in London with four other artists.

It is lovely to be included in the artspan article about landscapes, real and imagined......https://www.artspan.com/art-articles/230/Landscapes%3A%20Real%20and%20Imaginary


'Spectrum' - Art in the Ark in Basingstoke....three of my paintings join the others for an exhibition was on display until July 2016. See more photos from the exhibition here.

At the Fountain Gallery in East Molesey, I exhibited my work with Forbes Moores in 'Out of the Blue'.
The show was open on Tuesday, 22 March and ran until Sunday, 3 April 2016.


I am so pleased to have been selected again for the UpFront Open 2016.

The gallery/puppet theatre/restaurant is in Cumbria, in the wonderfully named Unthank.....
Tuesday 19th January - Sunday 13th March 2016.

NOVEMBER 12 - 22, 2015 Two of my paintings were selected to be in the ING Discerning Eye at the Mall Galleries. The selectors who chose my work were artist Emma Bridgewater and critic Stephen Doherty.

SEPTEMBER 1 - SEPTEMBER 13, 2015 'Colour Matters' at the Fountain Gallery, with Elaine Coles and Nigel Moores.


Open Studio on Sunday June 14 12-6pm.
www.hf-artsfest.com/events/hetley-road-open-studios/

'Below the Surface', 2-28 June, 2015 at the Lightbox Gallery in Woking.



'12',

an exhibition of artists at the

Menier Gallery, London, January/February 2015

'Up Front Open', Up-Front Gallery,

Cumbria, January-March 2015



'From Here and There', Drawings at the

Clara Hatton Gallery, Colorado, USA and

Elysium Gallery, Swansea, September-November 2014



'

Art in the Ark - the BIG OPEN Exhibition ', the Ark Centre, Basingstoke October/November 2014
Some great photos from this exhibition:
http://artintheark.org.uk/exhibition-photos/artists-studio-2014/


'Out of the Blue', Fountain Gallery, East Molesey, Surrey, July 2014



Dorset Art Weeks,

Dorset Art Weeks, June 2014

'The ING Discerning Eye Exhibition', Mall Gallery, London 2008, 2013


Derwent Art Prize, Mall Gallery, London, 2013


Bank Artists @ the Robert Phillips Gallery, Walton-on-Thames, Surrey, 2013


Bank Gallery at the Lightbox, Woking, Surrey, 2013

Espacio Gallery, Bethnal Green Road, London, 2013